Enterprise search functions
Searchdaimon ES easily integrates with you existing enterprise systems. It will let you search information from documents, e-mail, attachements, customer relation systems and other content sources. Everything is done from a intuitive web user interface, and can be compared with using Google, only on your company's content.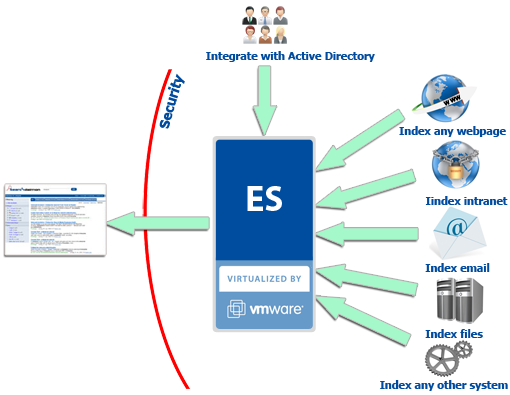 Support indexing of common enterprise systems like Windows file shares, Microsoft Exchange, intranet and external websites and Microsoft Sharepoint. You may also write your own connectors directly from our administration interface.
Access control and Active Directory
Optional integration against Active Directory and other user management systems enables employees to log on with existing usernames and passwords. Exisiting permissions will be preserved, so only files, documents and other resources that the user already has access to, will be searchable.
Searchdaimon ES neither adds nor removes anything from your access control mechanisms.